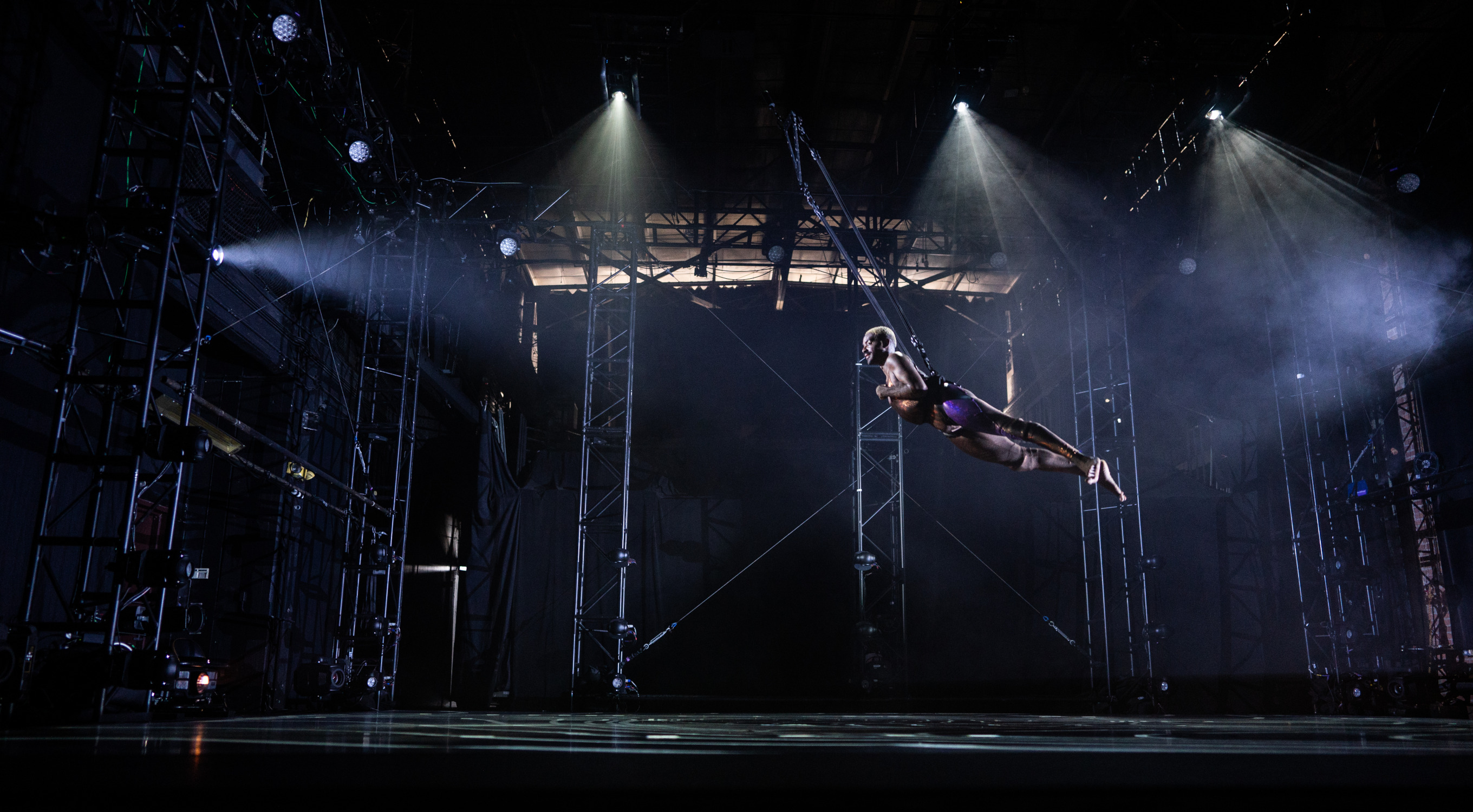 Jerron Herman flying in a high-ceilinged performance space surrounded by a tall truss. He is a dark-skinned Black man with light hair, clad in metallic copper with intense purple accents. Spotlights shine onto him and projections on the floor echo his flight. Photo Robbie Sweeny.
Wired Collaborator Bios
Wired's collaborating artists
Wired is immense and intimate. Beyond Kinetic Light's company artists and core production team, Wired has involved many, many people over years of development. Below, please find more information about some of the wonderful collaborators who have contributed composition, design, and Audimance content to Wired.
Ailís Ní Ríain: Composer
Ailís Ní Ríain is an Irish contemporary classical composer who works across concert music, installation, and music-theatre. Her work has been performed across Europe, in Israel, Brazil, USA, and Japan and broadcast on BBC and RTÉ. She has been awarded international fellowships, associate artist positions and residences at Yaddo, USA, the Atlantic Center for the Arts, The Irish Cultural Centre in Paris, the Ragdale Foundation, ArtOMI in New York and Bogliasco in Italy. In 2016 she was awarded the prestigious Paul Hamlyn Award for Composers.
Ailís experiences deafness, hyperacusis and tinnitus and has a particular interest in diversity and inclusion in the arts. She is a board member of Disability Arts Online. Her Debut Disc portrait album will be released by NMC Recordings [London, UK] in Autumn 2022 and includes a new commission for Dame Evelyn Glennie. Her orchestral debut takes place in Ireland in 2022. www.ailis.info
Josephine Shokrian: Scenic & Prop Design
Josephine Shokrian is a New York based artist who works primarily in sculpture, installation, photography, and sound. Shokrian also works behind the scenes in set, production, and stage design for which past collaborations include Glasser, Tourmaline, Beyoncé, and Lady Gaga; publications include Document Journal, Teen Vogue, Numéro and T Magazine. Shokrian has shared work at the Kitchen, New York; Palais de Tokyo, Paris; GMA Summer Concert Series, New York; and The Staples Center, Los Angeles.
Her most recent work, for Kinetic Light's Wired, synthesizes for the first time Shokrian's multivalent approach to scenic design while drawing on aesthetic, conceptual and practical considerations that celebrate and nurture disability and social life in all its proliferated intersections. www.josephineshokrian.com
Leahann "lafemmebear" mitchell: composer
Leahann "Lafemmebear" Mitchell is an independent composer, music producer, Grammy-nominated sound engineer, and interdisciplinary artist whose words and work have been featured in Esquire, The Guardian, GLAAD, Queerty, Out.Tv Euro, Billboard, and MTV News. Her past and present collaborators include poet Aja Monet and the V-Day organization, Time's Up and me too. International, Peppermint (RuPaul's Drag Race), Dawn Richard, Suzi Analogue, and Sudan Archives.
In October 2021, she became the first Black trans woman ever to produce a record on a Top Ten charting album with "I'm a Survivor (Lafemmebear Remix)" on Reba McEntire's REVIVED, REMIXED, REVISITED. In addition to her music projects, Lafemmebear produces and directs the documentary series We See You: Black Trans Living Legends, which focuses on preserving the legacies of living Black queer and trans elders.
She is grateful to Kinetic Light for the incredible and beautiful opportunity to co-compose the score to Wired. www.lafemmebear.com
Cheryl Green: Audio Description
Cheryl Green, MFA, MS integrates her degrees in Performance As Public Practice and Speech-Language Pathology to explore how story can be used to break down stigma and barriers. She began making films after acquiring disabilities from brain injury. Her media combine personal narrative and activism to create dynamic tools that critically challenge misconceptions and stereotypes of disability, celebrate pride in disability experiences, and amplify marginalized voices. Cheryl works to create a platform for people to use the arts to increase connectedness and to promote dialogue and change within the larger community. She has served on the Board of Directors for Disability Art and Culture Project and for Brain-injury Information Referral and Resource Development (BIRRDsong). She volunteered with the National Black Disability Coalition, Portland Commission on Disability, Open Signal, and KBOO Community Radio, and was a 2017 Association for Independents in Radio New Voices Scholar. Her artistic goals focus on increasing digital media accessibility, cross-disability collaboration, and building equity.
Leah Lakshmi Piepzna-Samarasinha: Audio Description
Leah Lakshmi Piepzna-Samarasinha (she/they) is a nonbinary femme disabled writer and disability and transformative justice movement worker of Burgher and Tamil Sri Lankan, Irish and Galician ascent. They are the author or co-editor of nine books, including (with Ejeris Dixon) Beyond Survival; Strategies and Stories from the Transformative Justice Movement, Tonguebreaker, Care Work: Dreaming Disability Justice, and Bodymap. They are a Lambda Award winner, 2020 Jean Cordova Award winner "honoring a lifetime of work documenting the complexities of queer  experience" and  a 2020 Disability Futures Fellow. Raised in rustbelt central Massachusetts and shaped by T'karonto and Oakland,  their new book, The Future Is Disabled: Prophecies, Love Notes and Mourning Songs is forthcoming October 2022. brownstargirl.org
Andy Slater: Sound Design
Andy Slater is a Chicago-based media artist, sound designer, and access advocate. He is a member of the Society of Visually Impaired Sound Artists and a teaching artist with the Atlantic Center for the Arts' Young SoundSeekers program. Andy holds a Masters in Sound Arts and Industries from Northwestern University and a BFA from the School of the Art Institute of Chicago. He is a 2022 United States Artists fellow, 2022-2023 Leonardo Crip Tech Incubator fellow and a 2018 3Arts/Bodies of Work fellow at the University of Illinois Chicago. In 2020 Andy was acknowledged for his art by the New York Times in "28 Ways To Learn About Disability Culture." Andy's current work focuses on advocacy for accessible art and technology, Alt-Text for sound and image, the phonology of the blindbody, spatial audio for extended reality, and sound design for film, dance, and video games.He has exhibited and performed at the Museum of Contemporary Art Chicago, Mcsweeneys Quarterly Concern, Contemporary Jewish Museum San Francisco,Transmediale Festival Berlin, Chicago Inclusive Dance Festival, Ian Potter Museum of Art Melbourne, Critical Distance Toronto, Gallery 400  Chicago, Experimental Sound Studios Chicago, Art Institute of Chicago, Flux Factory New York, and Momenta Dance Company Chicago. www.thisisandyslater.net
Dylan Keefe: Sound Design
Finnegan Shannon: Audio Description
Finnegan Shannon is an artist. Some of their recent work includes Anti-Stairs Club Lounge, an ongoing project that gathers people together who share an aversion to stairs; Alt-Text as Poetry, a collaboration with Bojana Coklyat that explores the expressive potential of image description; and Do You Want Us Here or Not, a series of benches and cushions designed for exhibition spaces. Their work has been supported by a 2018 Wynn Newhouse Award, a 2019 residency at Eyebeam, and a 2020 grant from Art Matters Foundation. They live and work in Brooklyn, NY.
Nathan Geering, Mo Pickering, & Shankojam of The Rationale Method: Audio Description
Rationale Method is a company that specializes in accessibility innovation. The company combines creative methodologies and techniques to enhance accessibility by making it both exciting and engaging for the user. The company's main focus is on reinventing audio description utilizing the skills of poets, beatboxers and sound engineers to provide a richer soundscape to the listener thus offering exciting alternatives to conventional audio description. Rationale Method's innovative approach is used to audio describe many award winning productions across formats such as film, theatre productions and museum exhibitions. The Sheffield based company have worked with prestigious organizations including Marvel, Royal Opera House, BBC, Children's Media Conference, The Special Olympics, Women's Euros and many more. 
Nathan Geering is the founder and Chief Executive of the multi-award winning Rationale Method of Audio Description and Creative Director of the 2017 Special Olympics Opening Ceremony. He is also a published author, TEDx speaker and multi-award winning filmmaker. With his unique approach to accessibility innovation, Nathan continues to implement the Rationale Method both nationally and internationally to bridge the gap between disabled and non-disabled artists and audiences the world over.
Mo Pickering-Symes specializes in delivering Rationale Method's Poetic-Emotive Aesthetic of audio description and has delivered on Rationale Method's training courses and provided audio description on productions for the likes of The British Paraorchestra and Stop Gap Dance Company. Immersing the listener in vivid pictures of movement, her emotive style truly captivates audiences the world over.
Shankojam has been involved as a writer, deviser, and performer for numerous touring theatre productions, performing both at home in the UK and abroad. Beatbox and spoken word have always maintained a large feature of his writing and work. Utilizing his experience in theatre and his media career within BBC radio, he is currently an educator for primary school children working to improve confidence, communication, and performance skills in young people, through curriculum based radio/television projects in inner city schools. He is currently developing new video based education and entertainment projects for children.